On June 15 and 16, partners of the Green Sports Hub Europe (GSHE) project gathered in Brussels in-person, with some participants also joining online.
The hybrid project meeting was hosted by the project partner Association of Cities and Regions for sustainable Resource management (ACR+). 
As an opening of the meeting, Partners were presented with a lightning mid-term project update and were reminded of all admin and to-dos for claiming expenses. The purpose of this session was to ensure all were aware of the needed elements to close the first half of the project in terms of administrative and financial management.
Sport, in various forms, has been a constantly evolving phenomenon that has produced huge leaps of innovation both in commercial practices and athletic performance. Alongside this expansion and innovation, however, comes an increased impact on our environment. This is the reason why partners were so eager to get into concrete development of the GSHE capacity building tools.
During the first session, Project partners discovered the progress of the Self-Assessment Tool (IO3). this tool will enable sports entities to assess their journey into green sport. It is based on several online modules such as governance, natural resources and transport.
The presentation was followed by the project partners brainstorming on the content that will give adapted suggestions for improvement depending on the results of the self-assessment and event organisers' precise needs.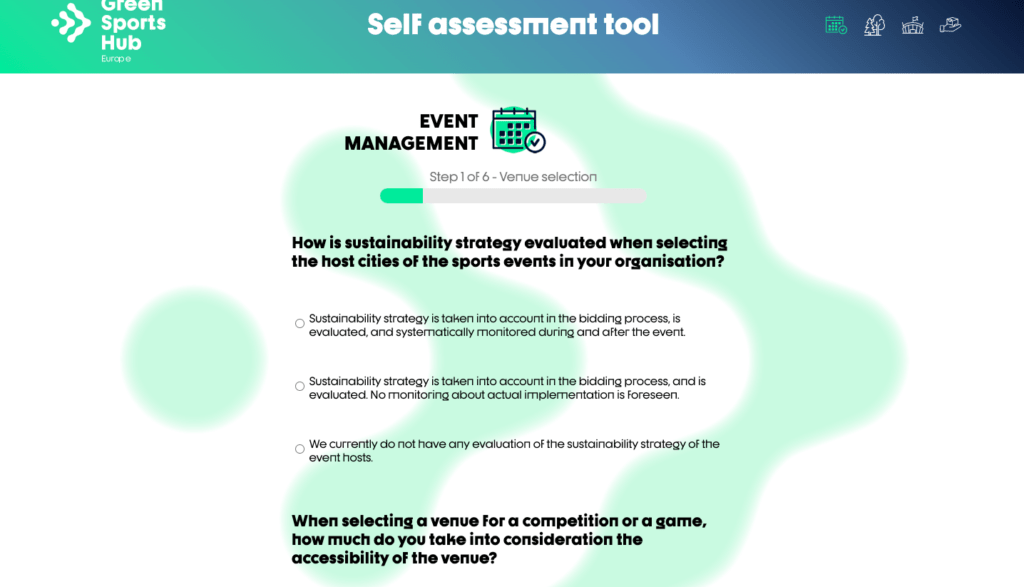 Together they also discussed extensively the strategy for the next 6 months to finalize the content and test it – including the enrolment of external experts and associates partners in the loop for quality check and assurance.
During the second day of the meeting, partners looked into the legacy of the project. They reflected on future partnerships and the partners' selection procedure. Indeed, the Hub continues to build a strong community of sports organisers and experts in sustainability in the long term.
The Green Sports Hub Europe project looks into ways in which the sports sector can become more environmentally sustainable by providing tools and a support system for events and organisations, connecting partners to share good ideas & practices, and by influencing EU policy and decision-makers.