WHAT?
A 3 year EU-funded project to create an EU-level hub – as a seed for a future
Alliance- to improve sport's environmental performance.
WHY NOW?
It's time for sport organisations across
Europe to identify their needs and potential
actions for a greener and more sustainable future.
HOW?
Gathering a set of recognised experts from different fields (sport stakeholders, public authorities & environmental NGOs) to develop tools by and for the sector.
WHEN?
With the 2024 Olympics as a horizon, a 3 year Erasmus+ funded project -from 1st Jan 2021 to 31 Dec 2023.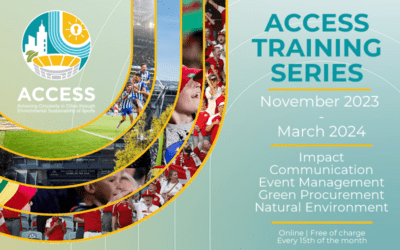 ACCESS's project is coordinated by ACR+, a member of the GSHE Steering Committee. It stands for Achieving Circularity in Cities through Environmental Sustainability of Sports. While the GSHE project is entering is last two months we will keep sharing great...