On 13 and 14 of March 2023, CEV gathered at its headquarters in Luxemburg 22 CEV School Project managers from just as many National Federations.
With another three joining online, they together co-delivered an eagerly anticipated and highly productive workshop-style meeting. The event was organised by the CEV Development Department and facilitated by Katerina and Vuk, both of them members of the GSHE Steering Committee.
The event objectives were as such:
▶ Raise overall awareness of the critical need to implement better sustainability practices in
sports organisations general functioning and at events.
▶ Provide national federations with examples of sustainability in sports best practices (small
and large scale examples).
▶ Assess whether or not the national federations have a sustainability strategy in place – if
yes, how to improve its success? If not, how to implement one?
The CEV School Project managers were separated into groups after each short presentation to brainstorm and discuss ideas on how to tackle objectives and obstacles within their National Federations to grow the game and improve the delivery of their CEV School Project activities.
After many, regular online meetings, this onsite workshop allowed the project managers to easily exchange knowledge and best practices with each other, while also raising awareness of certain topics to integrate – which may directly benefit their communities and organisation.
"It was a very inspiring meeting and I see a lot of new initiatives that can be implemented in my home country. We realize that we previously had limited thinking when it came to the costs of integrating sustainability into
our activities, when on the contrary, we learned in the workshop that we can actually reduce costs."

Nargiz Ismayilova, CEV School Project Manager at Volleyball Azerbaijan
Day 2 of this capacity-building event was devoted to all questions related to Sustainability. The Green Sports Hub Europe approach was central to the agenda.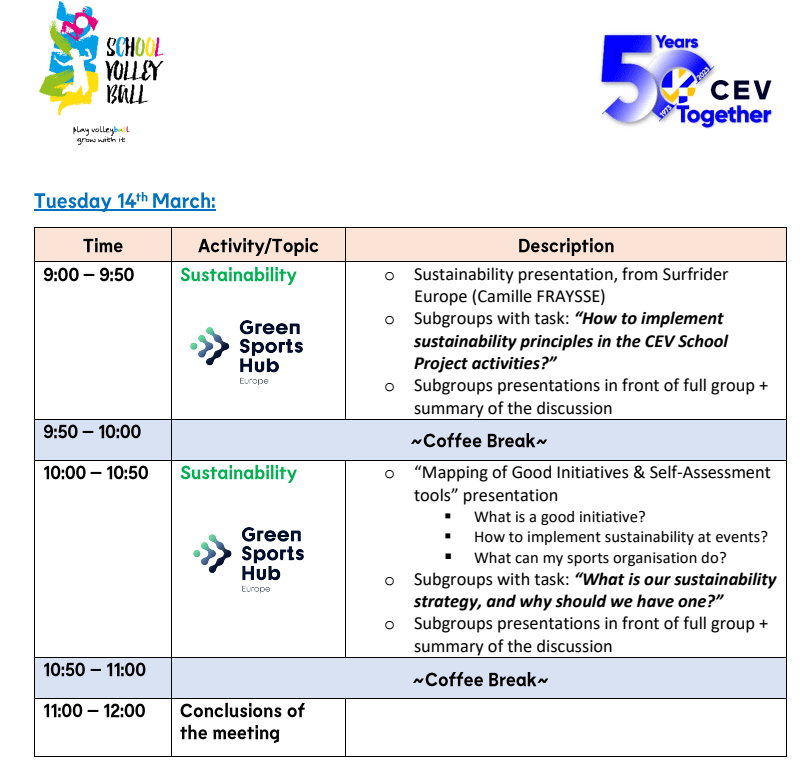 The meeting encouraged all partners to think critically about their current methods and approaches and it has provided examples of what kind of steps National Federations can take to increase the quality and quantity of growth.
It certainly was a worthy experience…
"We are pleased to see the inspiration and commitment from our CEV School Project managers to integrate sustainability practices in their club and school activities back home. This meeting was a great opportunity for us to raise awareness of the critical need for sports organisations to start thinking and acting greener both on an operational and practical level."

Katrina Reuter, Development Coordinator at Confédération Européene de Volleybal